After much delay with my original plans to get the Lady Raleigh her new rear wheel, it finally seemed like it was going to happen yesterday. The shop had ordered my new Sun CR-18 26 x 1-3/8" alloy rim (
foreshadowing!
), and I was excited to see the whole process. (For anyone interested in reading about what's involved in wheel-building,
Sheldon Brown
can of course explain it better than I can.)
First, we had to free the Lady's Sturmey-Archer hub from the old wheel by snipping all the spokes with a heavy duty wire cutter.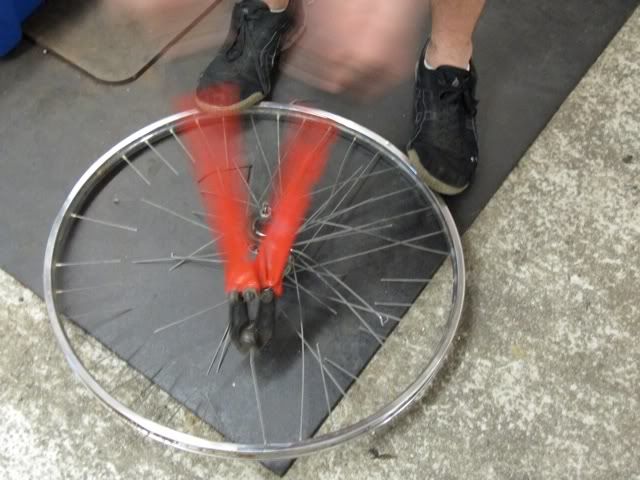 Can you see the ones that I snipped?
Here's a close-up of some of the worst rust on this rim. I bought the bike from a little old lady who said that she kept it up at her vacation house in Maine; now I wonder if I should have asked if that was on dry land or actually in the ocean...
Next, we pulled out all the remaining spoke bits and measured the hub so we could calculate the spoke lengths.
Once we had our spoke length (which I think was 190 mm?), we began to prepare the new spokes by dipping their ends in
Spoke Prep
, helpfully left over from a previous customer's expensive wheel build.
We then began lacing the rim to the hub, when (
can you guess? can you guess?
) we discovered that whoever placed the order had got a 36-hole rim instead of the 40 holes needed to match up to the mid-1960s Sturmey-Archer hub. Sigh.
I really like Quad Bikes. They're so nice and unassuming, they're a nonprofit business, and they frequently don't charge me anything for the little jobs I stop in for. The guy helping me was super embarrassed, since he was also the one who cut down my kickstand the day before. But just a patch of bad luck. A misjudgment here, a careless mouse click there; really, these things can happen to anyone. I still like Quad Bikes.
So now I wait for a 40-hole rim, and the Lady Raleigh just waits.
Side note #1: Opinions on what color tires I should get for when all of this is done? Stick with the gum wall (very mid-century)? Jazz it up with white walls (which would pick up the white on the rear fender)? Go for plain black, or black with reflex? For whatever reason, cream tires just aren't speaking to me on this one.
Side note #2: On kickstands, instead of another Pletscher, we're trying the
Porteur Double Kickstand
from Velo Orange.
Adjustable legs mean no saws necessary, so hopefully there will be no problems this time...