So here's how it all went down: I was minding my own business, riding my bicycle up Cambridge Street around 7:30 this morning. About two blocks from Harvard Yard, I was approaching a side street where an oncoming car was preparing to turn left. I slowed down a bit to make sure the driver would wait to let me pass and then proceeded to pedal onward. Except it turns out, the driver decided not to wait after all. There was a split second where I could see it happening and was thinking, "Wait, this is no good!" and I thought I might just be able to clear the car; but it ended up clipping my rear wheel and knocking us both over. I fell back, mostly on my elbows, comme ca: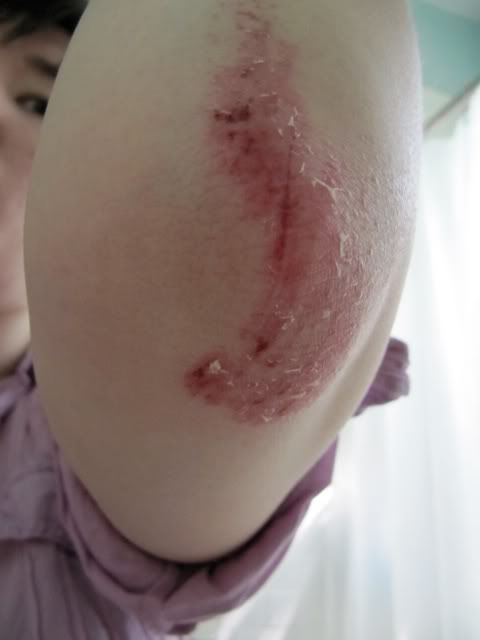 Really, they look worse than they feel (but they do make me look kind of badass, no?). Anyway, a few people on the sidewalk rushed over to help me with my bike and scattered shoes and things, and the cops directing construction traffic a block away came right over. They even called an ambulance, which while really unnecessary, was also the first time I've ever seen the inside of an emergency vehicle. The girl driving the car, who was maybe a little bit younger than I am, was beside herself. I know I would be too. Hitting a cyclist while driving is one of my worst nightmares, and I can completely understand how she felt. She said the sun was in her eyes, and all it takes is that one second when you're not quite paying attention.
My main concern from the first moment was for the Fryslan! The brand new, purchased-on-Friday, gorgeous Fryslan. I was terrified.
I am pleased to report, however, that everything you've heard about the sturdiness and strength of these Dutch city bikes is true. The only damage was cosmetic, and really, her paint was barely scratched. Some faint-to-medium scuffs along the left side, scraped rubber on the left handlebar grip (which I was hoping to replace anyway), and the right skirt guard came loose and lost one of its clips. It's now secured with a zip tie, which is pretty unobtrusive:
The main two areas that got slightly bent out of shape were the two stays (?) holding the rear rack on the left side and also the rear fender.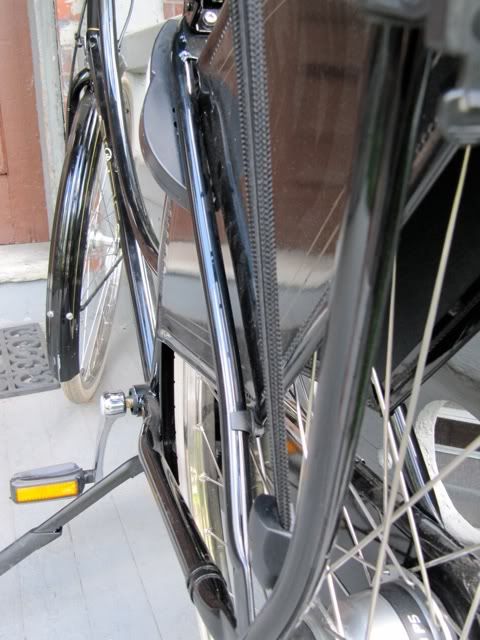 In this one, you can kind of see also where the stay (or whatever) on the left side bends inward toward the bottom compared to the one on the right.
I took her back to
Quad Bikes
for a checkup, and they confirmed that nothing was structurally wrong. The guys were impressed with the Frys's sturdy steel construction and said the frame performed as well as it could have in a collision with a car. Someone also mentioned that since the bike was brand new, it may be possible to get replacement costs from the driver's insurance company, which would be pretty nice. The thing is, the cosmetic damages don't really bother me-- I think they add to Frida's (I'm calling her Frida, because I think it sounds strong) character and are a sign of her resilience. But, they're things that aren't really fixable/if I wanted the bike back to pre-accident condition, I would more or less have to buy a new bike. In any case, I took photos of all the scratches and scrapes (on the bicycle and on myself), and we'll see how it turns out.
Incidentally, I wasn't wearing my helmet. I always wear it at night, because I put big reflective stripes on it, or in the cold or rain; but otherwise, I really prefer to go without. Part of the joy of riding my bicycle is the feeling of freedom it gives you, with the wind blowing in your hair and the sun shining on your face. But everyone I've spoken to today is adamant that I wear the helmet all the time now, and it seems hard to argue.... Sigh.
After lunch, Frida and I took a well deserved rest in the shade of the Radliffe Quad. This was kind of a bonding experience for us, but a somewhat tiring one.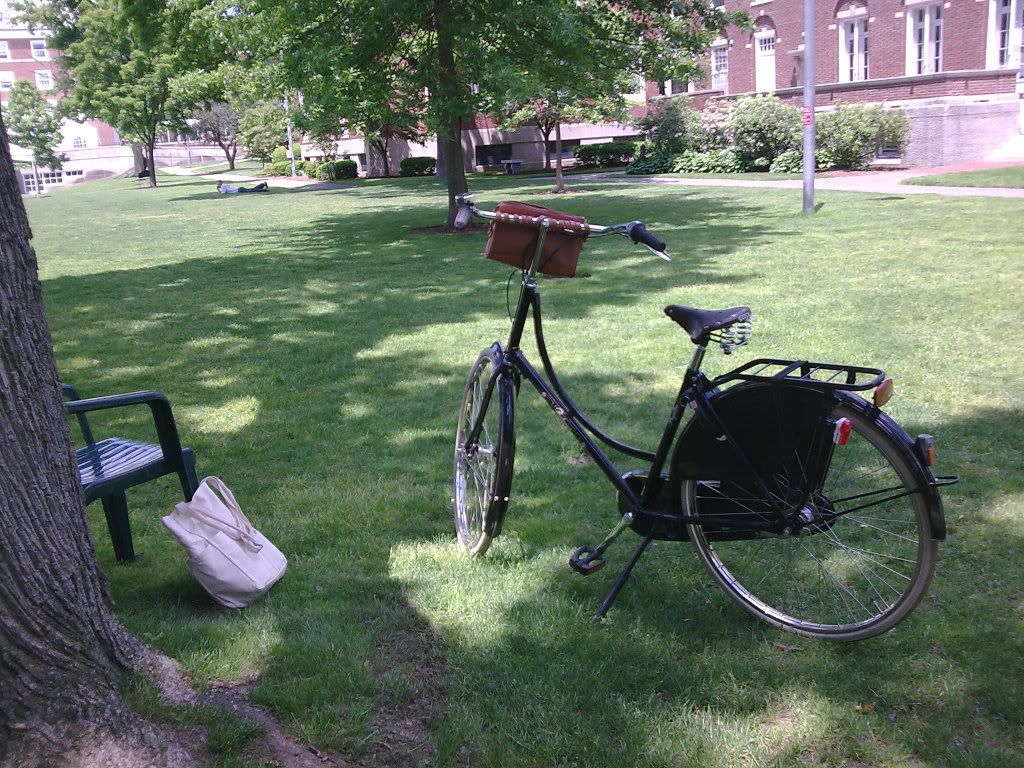 Thanks go out to the passersby on Cambridge Street, Officers Mahoney and Douglas, Brian the EMT, and Dave + other guy whose name I didn't get at Quad Bikes, who never seem to want to charge me for their services (I always go for the tip jar though).