May 17-June 6: Social Cycling


Go on a group ride

Leave a nice note on a bike, or say hi to a cyclist at a red light

Schedule a bike date with a friend or partner — dress up!

Recruit a non-biking friend for a ride

Ride with your family
The afternoon of my accident, I ran into this adorable man with his adorable baby girl and adorable BMX bike. They all looked so darn adorable that I asked if they wouldn't mind pulling over and letting me take their picture: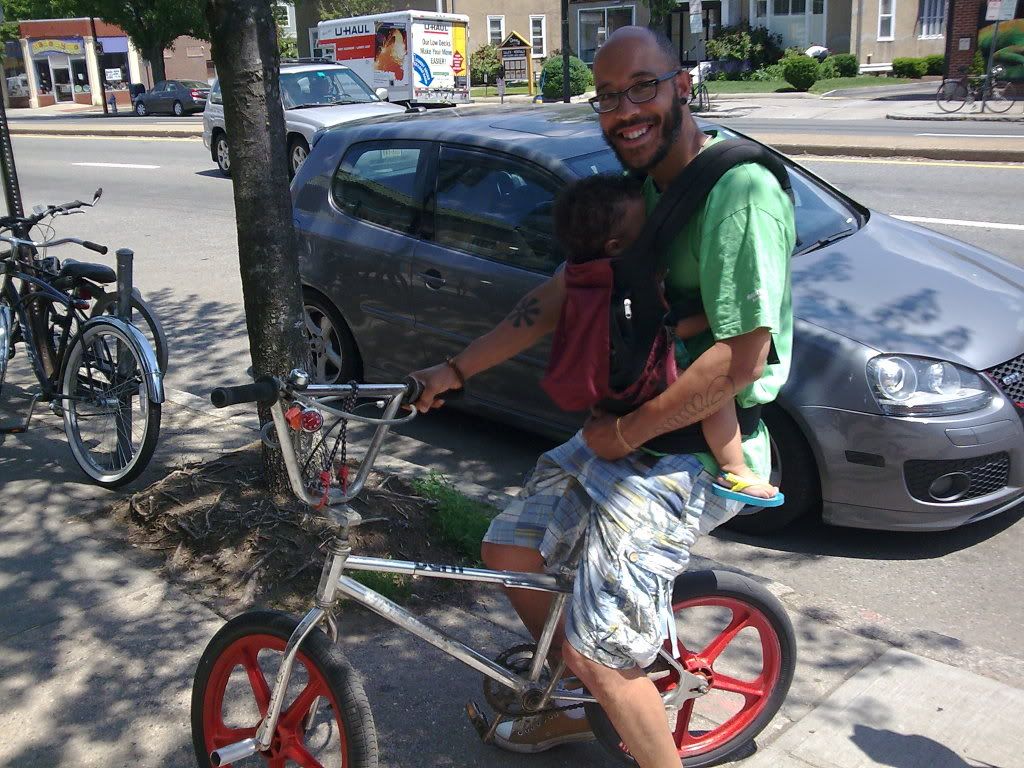 See?? How great are they?! He seemed tickled by the suggestion and didn't mind the interruption at all. This was the first time I've ever really given more than a quick, "hey" to a fellow cyclist, and it felt nice-- especially after such a difficult cycling day!
That same day, I was waiting to walk my bike through a crosswalk by Harvard Yard when I noticed I was pulling my Fryslan up to a red Batavus Old Dutch! The owner smiled and said, "A nice choice," and we chatted on our walk through the Yard as our Bats rolled side-by-side (honestly, I think Frida was comforted to see a relative on such a traumatic day). It turns out, the guy was actually from the Netherlands, doing a chemistry post-doc at Harvard, and he'd just purchased his bike from Quad Bikes the previous week. He agreed that these bikes were built tuff and was unsurprised at how well Frida handled the crash. I didn't get his name or photo, but on my way home, I saw his bike parked outside the Science Center-- next time I'll leave a note! Our Bats can be buddies!